How to Wear Animal Print
I love animal print, and I have for years. So I knew I wanted to show you all how to wear animal print when it started showing up everywhere. And I mean everywhere.  Scroll down to see my fun photo shoot and some inspiration for playful ways you can add animal print to your wardrobe!
I'm gonna show you some modern ways to indroduce zebra, cheeta or leopard into your clothing rotation.
Not all animal prints are bold
Like this pastel animal print with neutral dark pants. I like this longer length button up with dark denim or even light pink pants. The print has a little mauvey pink tone, and I'm actually wearing that top with light pink pants as I type this. This top is Rachel Zoe from TJ Maxx and it was under $18.
Throw on a scarf
This is a good way to ease into the animal print trend. I have several different scarves with animal print and I've had them for years. The shoes I paired with this look are actually snakeskin loafers. I got them from Nordstrom. Here is more about my Must Have Shoes for Fall
The red pant and print top is the most fun look on the crosswalk pic in my opinion. That is a leopard tank with tomato red jeans. I really like pairing this leopard tank with denim and denim jacket too (see pic below), as well as a hot pink cardigan and black pants. Jeans are from my closet, Lucky Brand. The top is from Maurices in Valley Hills Mall. With a coupon they had, it was under $20!  Maurices.com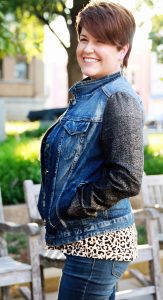 How to wear animal print shoes
Another fun way I show how to wear animal print is on a shoe. I have had these wedges for about 6-7 years. They are Lucky Brand and I love them and get compliments every single time I wear them. I often splurge on shoes and denim, the things that are more important in my opinion, and look for tops under $30, especially if they are trendy. Here are a few shoes I saw at Dillard's department store.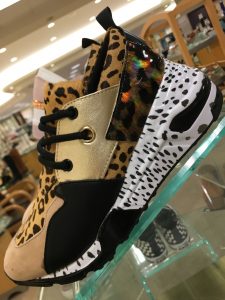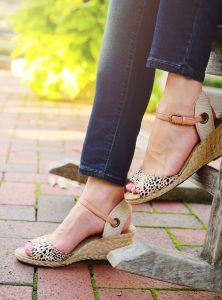 Here is a closeup of the tank I got from Maurices. I love the rolled edge on the arm and when I'm wearing a busy print like this, I opt for a more simple or clean design of earring like this one from Merle Norman of Mooresville.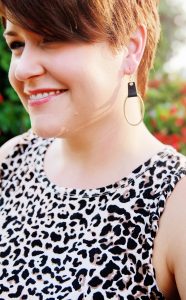 Another top I found that I love and makes me feel good is this tee from Maurices. I love the cut of it. It's great if you don't want something tight across your tummy and has room for my larger than average chest without being huge in the shoulders. I wear a medium in both tops featured from Maurices and I wear a 36DDD bra. I also appreciate the cuff on this. It makes it a little dressier than just a plain tee.
Put on an animal print cardigan or jacket with solids
Another way to wear animal print is to put a fun print cardigan on. I've worn this one for a while too. It's from Target (2015 I think) and I love the colors and scale of the print. Another place I love cardigans from is zulily.
I actually found a cardigan really close to my pic here at my front  door. Here it is. And it looks really good with jeans and a black tee too.

Thank you so much for reading! I hope I gave you some inspiration on how to wear animal print. Please share this blog on your favorite social media platform and be sure to sign up for an email alert so you see fresh blogs as they are published.
Monica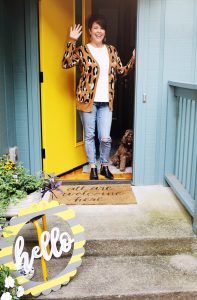 Keeping it real…as an affiliate I earn from qualifying purchases made through my site. Thank you for using the links for Amazon purchases and allowing me to help earn income for my family. The commission I earn is at no extra cost to you.
Here are some other blogs you may enjoy!