After Sun Skin Care Tips
After Sun Skin Care Tips to help your skin recover and regain health!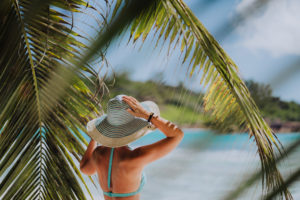 Use a gentle facial wash, not bar soap or gel soap to cleanse your skin. Use it twice if you have a build up of sunscreen, makeup or oil on the skin.
Skip the toner. Using alcohol based products could really dry you out even more than you already are, so unless it's a rosewater or soothing alcohol free toner, just don't use it while your skin is recovering from sun exposure.
Wait until your skin is no longer pink to use exfoliants or scrubs. Then after skin has normalized, use a gentle scrub to slough off dead, dull skin before it clogs your pores and causes breakouts.
Use a hydrating gel sheet mask or light cream mask to boost skin's hydration level!
Use a hyaluronic acid serum to hydrate at the cellular level. (I have 2 options to choose from)
Layer on a lotion or cream to lock in moisture and help skin recover from the dehydrating effects of sun exposure.
Protect skin with SPF every morning. Using a SPF lotion as your daily moisturizer ensures you never miss this important step. I have about 8 different SPF's available to help you find the perfect fit.
Not sure what products are best for you? Let me help you. Skin care consultations are available to help you get the ideal products to care for your skin seasonally.
So lets review…
Do's & Don'ts for Sunned Skin:
Do 
Use gentle hydrating products
Use SPF to protect tender skin
Don't 
Use harsh gel or acne products
Use a scrub or exfoliator until redness has gone away
Pick at peeling skin
Thanks for reading my After Sun Skin Care Tips!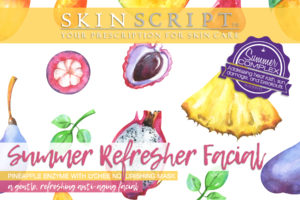 Want to try my Summer Refresher Facial?
Take a break from the stress of life with this tropical pineapple and lychee fruit facial. It's perfect for parched skin in need of gentle exfoliation and nourishing hydration.
Click here to book your Skin Script Enzyme Therapy Summer Facial!
Other Blogs you may enjoy:
Sunscreen info you need to know!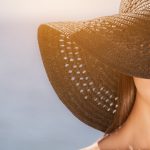 Facial Rollers: Jade, Rose Quartz or Amethyst?
What makes me a skin care expert?
12 years as a licensed Skin Therapist (Esthetician).
Annual continuing education and licensing renewal with my state's Department of Cosmetic Arts keeps me up to date.
This is a subject I study on a regular basis. All information is a collection of my licensing education, skin journals and articles I have read, as well as continuing education hours. I am passionate about helping people have healthy skin that they are confident in.
I am not a doctor and I do not diagnose or treat illness.
Would you do me a favor?
If you found this information useful, please share it on your favorite social media platform. Thank you so much!
Monica