I'm Moving!
Many of you have already heard this, but for those who don't know yet, I am expanding and I'm moving into a larger space in Downtown Statesville next month!
This new location will allow me to have massage therapists, in addition to my thriving facial business. My soft opening is Thursday, April 22nd in the City Center building in Statesville. I will solely do business in this location. My last day in Mooresville is Saturday, April 17th.
I will be changing my name to The Hidden Spa, but my booking system and gift certificates will not be affected by this change.
I have met many of you through my years of working in Merle Norman, and I hope to see you at my new spa in the months to come. This move comes as my Mom is gearing down her career and I am amping mine up. Change can be hard, but I am very excited for this new chapter of expansion and also being closer to home.
Here are some details for you those of you who want to know more!
My last day in Merle Norman Mooresville is Saturday, April 17th.
My first day in Statesville is Thursday, April 22nd.
I will be re-branding and changing my name. Skincare by Monica will no longer encompass all that I will offer. Logo is being worked on now. 😉  
Gift cards are absolutely transferable to the new business.
I will be offering massage therapy too, as soon the massage therapist and I find each other. 
Parking is still gonna be easy with a private parking lot for the building.
My husband Brent Hicks will be helping me with the front desk a couple days a week.
The new address is 206 Cooper Street, Suite 111, Statesville NC, inside the City Center Building. (see picture below).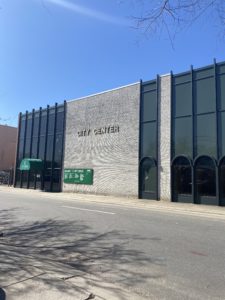 I will continue to retail and use SkinScript products in my facials.
My momma is excited for me, but this last month is the end of an era, as I've worked in the same building for over 21 years!
I'm the same age my grandmother was when she took a gamble, and opened the Merle Norman. 
Thanks so much for reading and subscribing to my blog!
Monica